Meet Michelle, Independent Agent
New Brighton, Minnesota
Personal and Business Insurance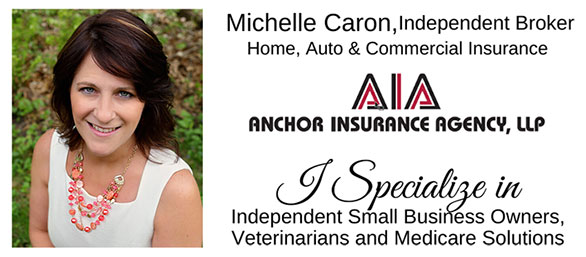 Hi, there! I'm Michelle J. Caron, an experienced independent insurance agent based in the Twin Cities in Minnesota. And you? Well, I may not know your name, but I know why you're here.
You're searching for the right insurance to protect what matters most to you. That could be your home, your family, your company or your prized possessions.
But, you see, finding the right insurance isn't just about getting the cheapest policy. No, for the right insurance, you're likely going to want much more than that.
Helping You Find the Best Fit Insurance for Your Needs
My number one goal is to ensure you get the insurance you need at the best rates. To deliver on this goal, I promise to do the following:
Offer coverages from vetted carriers: I've encountered many insurance carriers in my time and have chosen to write policies only with those that live up to my high standards.
Narrow the field of options so you can make an informed decision: The number of coverage options out there is staggering and can overwhelm anyone not well-versed in the industry. When you're ready for a new or improved policy, I'll narrow the field of insurance quotes down for you so you can choose from the ones that offer the best fit.
Advocate on your behalf at all times: As an independent insurance agent, I work for you and no one else. I am not beholden to any single insurance carrier and I am not on any single company's payroll. So when you have a question or need help with a claim, my only role will be to support you. With me, you will have someone on your side always.
Respond to your calls and emails promptly: Nothing is more irritating than waiting days for your agent to return your call or email. Communication is incredibly important to me. I make myself available to you no matter where you lay your head at night or when you need assistance.
Provide jargon-free answers to your questions: Insurance lingo is often confusing. I'm here to break down the jargon to help you understand what you need, what you don't and what might be nice to have.
Be your point of contact always: Speaking to the same people every time you call is a rare commodity in today's world. Having the ability to talk to me instead of a stranger in a call center is invaluable.
Ready to put these promises to work for you?
Call me today at 763-473-4090 or send me an email and we'll get the process started.
So Who Am I, Exactly?
Well, you already know my name: Michelle Caron. Here are a few other items I'd like you to know about me:
I have more than 20 years of experience in the insurance industry.
I'm an avid believer in getting what you need—no more and no less.
I believe no two insurance policies are created equal.
I've seen the industry change so much that the personal connection between agent and customer has all but disappeared—I refuse to let that happen between me and my clients.
I'm also a proud mother to two adult children and two adorable dogs. I love spending time with my husband, Mike, who is a local contractor. And I enjoy volunteering whenever possible. Most recently, I've been involved with both the Junior League of Minneapolis and the New Brighton / Mounds View Rotary. It's my dedication to my family and my dedication to my community that keeps me working so hard as an independent insurance agent.
Here to Bring Peace of Mind to You and Your Family
For over two decades, I've helped individuals and families get the right coverage in place to protect them in the event of a loss. Here is just a sampling of the various personal insurance policies I can seek on your behalf:
Home insurance
Cabin insurance
Auto insurance
Boat insurance
ATV & RV insurance
Motorcycle insurance
Umbrella insurance
"I have been working with Michelle for 6 years and have enjoyed every moment! She provides services for both my corporate and personal insurance needs. My company is a furniture warehouse and delivery company. Michelle was able to understand what our business insurance needs were right from our first conversation and was able to provide comprehensive coverage at a fair rate. She also provides personal insurance for me and my family members. Michelle is knowledgeable, professional and a true friend. I consider her an important part of my team. Her support staff is also wonderful to work with. I highly recommend Michelle Caron!"
Tracy Gratton, President
Signature Designer Services
Let's Protect Your Business From the Unexpected
Small businesses are the heart of America. I see it as my duty to help keep the doors open to as many small businesses and mid-sized businesses as possible. It's for this reason I offer all variety of commercial insurance policies, including:
Business owner policies (BOPs)
Commercial property
Commercial auto
Commercial fleet
Cyber risk
Umbrella insurance
I can write all these policies and more for all manner of industries. Unique coverages I offer include:
Fleet business insurance
Homeshare insurance
Main Street business insurance
Manufacturing insurance
Rideshare insurance
Technology insurance
Michelle has been my business and personal insurance agent since 2005. As an independent agent representing many insurance companies, I am confident that michelle is finding the insurance that best suits my needs at the right price. Her prompt attention to any issue has given me the confidence to recommend her to business clients and use her for the insurance needs of large Home Owner's Association that I work with.
Sincerely
Ronald K. Jones, CPA
Insurance Is Boring…Until You Need It. Don't Get Caught Without It.
For most folks, insurance can seem boring—something they just want to get taken care of so they can get back to more exciting things. Luckily, I don't find insurance boring. I enjoy diving into the nuances that make one carrier the better fit or a certain policy the better option.
You need insurance, whether it's for yourself, your family, your home or your business. But you don't need to get lost in the fine print of various insurance offers to determine which policy is the best fit for your needs. That's my job!
Let me help you get the right insurance policies in place today so you have the "just right" coverages necessary should the need to use them arise. Give me a call today to get started on your insurance quote.
Call Me, Michelle Caron, With Any Insurance Questions You Have
Questions are free! If you're wondering whether your current coverage is enough to protect you in the event of a loss or if you're looking to expand your insurance portfolio to include your new home, cabin or business, just pick up the phone or send me an email.
You don't know what you don't know until you ask. I'm here to find the answers you need and to compare policies on your behalf so you can make an informed decision about how best to move forward. All this costs you nothing but can save you a lot in the long run.
From my home in New Brighton to my cabin in Eveleth, I'm here to support the needs of the families and businesses in the Twin Cities and across Minnesota. Reach out any time to discuss your needs. I look forward to hearing from you!
Contact Information
Michelle J. Caron
Phone: 763-473-4090
Email: michelle@anchorins.com